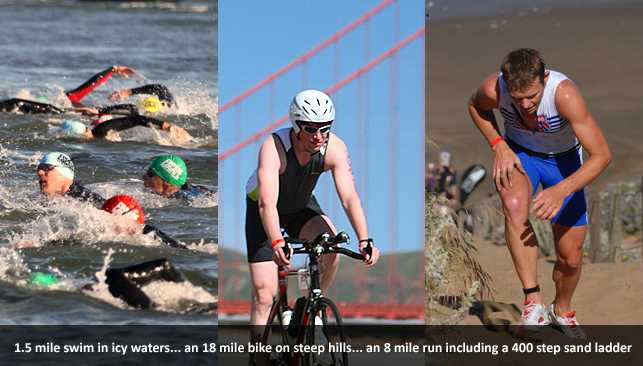 On June 11, 2017, triathletes from around the globe will descend on San Francisco for one chance to attempt the impossible – ESCAPE from Alcatraz. The Escape from Alcatraz Triathlon attracts World Champions, Olympic Medalists and the best amateur triathletes from 50 states and over 40 countries. They will put their endurance to the ultimate test as they take on San Francisco's legendary Bay, steep hills, and rugged terrain. Consistently ranked as a favorite event among Triathletes, this event draws thousands each summer to find out who has what it takes to ESCAPE!
The 2017 Escape from Alcatraz Triathlon features a 1.5-mile swim from Alcatraz Island to the shores of the St. Francis Yacht Club, a grueling 18-mile bike ride, and a demanding 8-mile run through the trails of the Golden Gate Recreational Area. Set against the natural beauty of San Francisco, this thrilling triathlon is a virtual postcard of the City by the Bay.
The Fitness Festival and Expo is featured on Saturday and Sunday at Marina Green in San Francisco. This two-day festival offers the opportunity for sampling, product giveaways, product displays, sweepstakes, and other promotions. Included in the fitness festival are a food court, beer garden, and experiential vendor displays.
VOLUNTEERS NEEDED
The success of the Escape from Alcatraz Triathlon would not be possible without the numerous volunteers who generously offer their time to support this great event. We always need help and would love for you as an individual, or teams from college, club or organizations to come out and join us for the Escape from Alcatraz Triathlon.

All volunteers receive an Escape From Alcatraz Volunteer T-Shirt, food and water.

Click here to get started as a volunteer.

VoLunteer Incentive program for athletes
As you know, demand for a spot in the race is high and you may or may not earn an entry spot during the public drawing for slots that takes place each September.
If you didn't make it into this year's race and want to improve your chances on gaining a slot for next year's race, consider joining us as a volunteer!
All athletes who pre-register on this site and volunteer for this year's race, will have a chance to be entered in a drawing for a confirmed spot in next year's race! 1 in 3 volunteers who enter this drawing will secure a guaranteed spot in next year's race and will receive a 20% discount on the entry fee!
Entering the Volunteer Incentive Program drawing will not preclude you from entering the public drawing held for all interested participants, so if you don't secure a spot through this special drawing reserved for this year's volunteers, you'll still have a second chance through the public process. (Entries gained through the public drawing will not qualify for the same discount applied to those selected through the volunteer incentive program).
So serving as a volunteer this year greatly increases your chances of securing a slot for next year! Be sure to pre-register on this site and join us as a volunteer for this year's race. (Please be aware that day of event, walk-in volunteers do not qualify for this program, so be sure to pre-register!)
Click here to get started as a volunteer.